Richards Bay restaurants in KwaZulu-Natal, KZN, South Africa at Mugg and Bean family restaurant in KwaZulu Natal KZN north coast
Tel; 035 789 3999
Fax; 035 7894535
Shop U45 Inkwazi Mall
Boardwalk
Mugg & Bean in the Boardwalk Richards Bay provides the perfect refuge from a busy days shopping or a quick break from the office and at the weekends Mugg & Bean is the place to go for breakfast.

Menu items are specifically designed to meet the needs of just about everyone looking for a friendly informal dining experience available at all hours.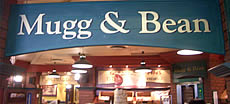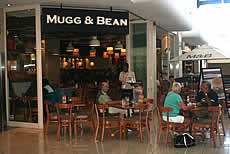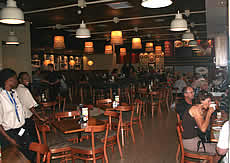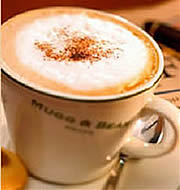 Mugg and Bean at the Boardwalk Richards Bay has a friendly and generous feel about it. You can enjoy several hours absorbing the friendly atmosphere and drinking bottomless cups of coffee.
We create a unique experience for our customers, so that they want to come back to Mugg and Bean at the Boardwalk Richards Bay again and again.
Mugg & Bean's Unique Coffee on the Go


Mugg & Bean's focus is to deliver a diverse range of filter coffee blends and espresso-based drinks. All coffees are brewed according to the correct formulas and parameters, thus delivering a consistently good in-cup quality
Mugg & Bean is a full service, coffee-themed, quick-casual restaurant featuring outstanding signature dishes and baked items trading in five day-parts: early morning, breakfast, lunch, dinner, and late-night. Mugg & Bean fills an immediate and growing market need for "cut-above" fast casual dining. As the South African leading coffee themed restaurant we will deliver a positive experience to all our customers, today and tomorrow, through innovation, generosity and the passion of all our staff. We do it in an atmosphere that is convenient, safe, inviting, always spotlessly clean, and friendly. We do it all better than our competition, with a spirit of generosity. It is exactly these differentials - uncompromising quality, food panache, value, generosity and coffee cachet - that define what is really at the heart of Mugg & Bean:
Here at Mugg and Bean at the Boardwalk Richards Bay, we go out of our way to make sure that you the customer is satisfied.
Relax in our friendly setting with your bottomless cup of coffee and choose from our extensive menu to whet your appetite.
We also have a take away menu so that you can enjoy our meals even if you do not have time to sit with us.

MUGG & BEAN JOINS VITALITY ACTIVE REWARDS
We have gone the extra mile to give you more and more. Mugg & Bean is now a Vitality Active Rewards partner, which means that Vitality Active Rewards members can now redeem their rewards from Mugg and Bean and On-The-Move stores.